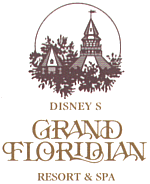 The legendary, elegant and lavish turn of the century Grand Floridian Resort and Spa opened back in 1988. One of the last Magic Kingdom resorts, the Grand Floridian is a luxury resort that offers uncompromising service and exceptional style in the old Disney way. Enter the lobby and take a look around.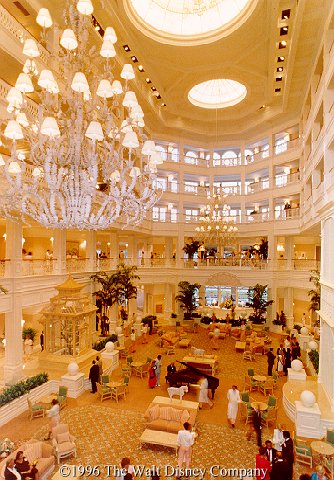 There are 900 recently refurbished rooms decorated in old Victorian style. Most rooms at the Grand Floridian include two queen-size beds, a daybed, and can accomodate five people. Suites include one, two or three bedrooms which house king-size or queen-size beds. There are also 15 honeymoon suites as well which offer great views of the Seven Seas Lagoon and the Magic Kingdom.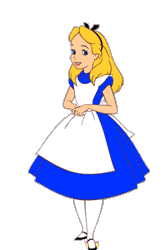 Restaurants
Citricos (Sit Down Restaurant)
The largest restaurant of the Grand Floridian offers Southern French dishes along with excellent views of the Magic Kingdom fireworks at night.
1900 Park Fare (Sit Down Restaurant)
Mary Poppins, Alice, Minnie Mouse, Pluto and others host a buffet character breakfast in the morning while Disney Villains rule at dinner time. This a buffet style restaurant with guests surrounded by carousel horses.
Victoria & Albert's (Sit Down Restaurant)
The finest restaurant on the Walt Disney World property, elegant meals are served but only to a select 60 guests. Priority seating is required as well as jackets for men.
Gasparilla Grill & Games (Snack Bar)
Guests can stop by this snack stand 24 hours a day and play video games while filling up on light snacks.
Grand Floridian Cafe (Sit Down Restaurant)
Stop by this restaurant for a quick breakfast or visit for a relaxing lunch or dinner later in the day.
Narcoossee's (Fast Food Restaurant)
This is a casual restaurant located next to the shore line of the Seven Seas Lagoon. The menu is always changing but including plenty of seafood items. Try some cocktails on the veranda.
Stuff to Do
Looking for something to do at the Grand Floridian Resort & Spa? Why not rent a sailboat, canopy boat, pontoon boat or a Water Mouse for a day on the Seven Seas Lagoon. There are plenty of treatment rooms in the spa area of the resort as well as a health club which offers steam rooms and exercise equipment. There are also plenty of shops like Summer Lace for women or M. Mouse Merchantile for character merchandise. Why not try a few video games out at the Gasparilla Grill & Games on the first floor. Swimming and tennis are also offered for recreation.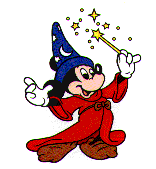 The Mouseketeer Club
This is a supervised program where parents can drop off their kids for the evening and have fun elsewhere at the Walt Disney World complex. Kids ages 4 through 12 are accepted. The Mouseketeer Club is open from 4:30pm to midnight. Cost is $8 per hour for each child and there is a four hour maximum. Reservations must be made by calling 407-824-2985.
Pirate Cruise
This is offered to kids ages 3 through 10 who wish to embark on a special cruise to search for treasure near the Magic Kingdom. The trip is about 90 minutes long and costs $20 per child. Call 407-WDW-DINE (939-3463) for reservations.
Transportation
There is a wide variety of choices for transportation around the Walt Disney World resort. The monorail can take guests to the Magic Kingdom or the TTC where they can catch a bus to Typhoon Lagoon or Downtown Disney or take another monorail to Epcot. Buses also travel from the resort to Walt Disney Studios Florida, Animal Kingdom, and Blizzard Beach. Water launches leave for the Magic Kingdom and Polynesian Resort.