Disney's Animal Kingdom is Walt Disney World's latest theme park. Though attendance has slipped, it means good news for the theme park goers because that means they will be adding bigger and better attractions for all to enjoy like the highly rumored Beastly Kingdom and a new land like Australia.

The attractions at Disney's Animal Kingdom are meant to engage, entertain, and inspire. They immerse guests in a tropical landscape and introduce them to fabulous creatures of the past and present and what we can do to preserve these magnificent creatures for the future.

The park (Disney's largest theme park to date) is about 500 acres large and contains 1,700 animals in it. Be prepared for a lot of walking and watch small children especially along the complicated pathes.

Though you are use to the audio-animatronic animals, all the animals here (with the exception of a few) are real. The people at Disney hope you will find a real kinship with these wonderful creatures.

Enjoy Your Adventure!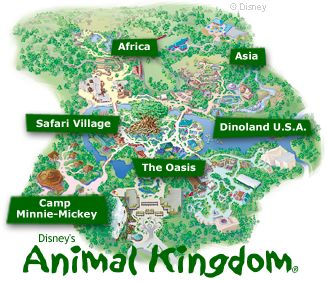 Discovery Island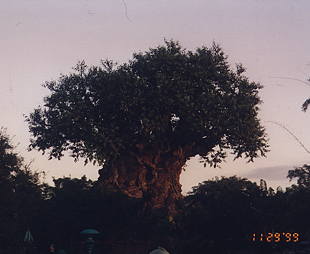 The Tree of Life
The majestic Tree of Life, which stands 145 feet tall, is the icon of Disney's Animal Kingdom theme park. The gigantic tree represents all animal life on Earth. The gnarled trunk of the tree contains 325 animal images on it. See if you can find them all. Travel through the Tree of Life Garden to get to the theater for one bug of a show and don't forget to look at the parody posters of famous plays and movies.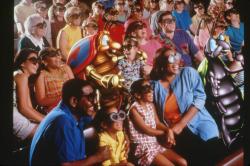 It's Tough to be a Bug
Inside the enormous Tree of Life is a 430-seat theater in which "It's Tough to be a Bug" is presented. Your host Flik (from A Bug's Life) shows you (while donning special Bug Eyes) how difficult it is to be a bug. Friends like Chile the spider and the Stinkbug show how they defend themselves out it the big world. Hopper crashes the show and makes things difficult but soon things return to normal....sort of.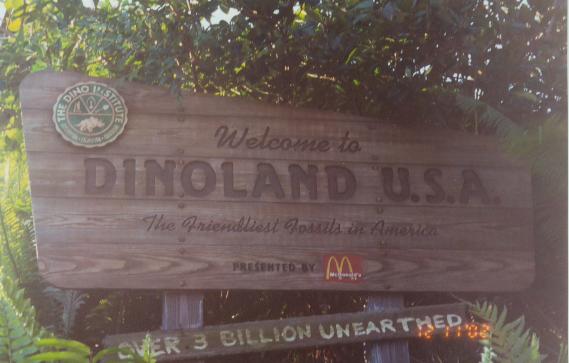 The Boneyard
This playground area for children shows the kids how scientists really dig for dinosaur bones and fossils. They can slide, tumble, twist and turn through this larger then life playground. Try hitting some of thebones to hear a musical sound. You can even cross the Olden Gate Bridge at the entrance of Dinoland.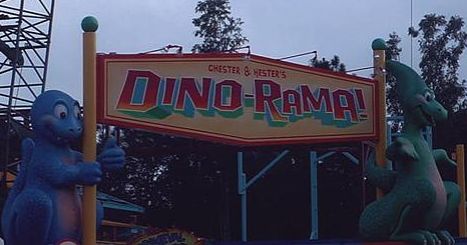 Chester & Hester's Dino-Rama is the newest addition to Disney's Animal Kingdom. Located behind Chester & Hester's Dino Road Side Shack, it feels like the carnival has come to town. There are two attractions, Midway games and tons of fun along the way.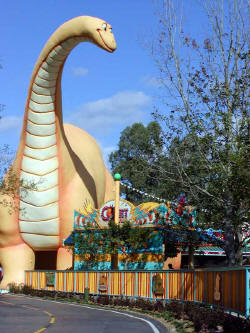 Primeval Whirl
Recently opened in Late March 2002, this spinning mad mouse coaster will send guests back in time going past funny and strange dinosaurs on their way back home. Look out for the comets! There is a 48 inch height requirement.
Triceratops Spin
A ride similar to Dumbo the Flying Elephant and the Magic Carpets of Aladdin at the Magic Kingdom, Tricertops Spin has 16 cars (shaped like Tricertops) which seat 4 people each. Look at the top, a small dinosaur pops out at the end of the attraction. You get a good view of Animal Kingdom from way up so remember to bring your camera with.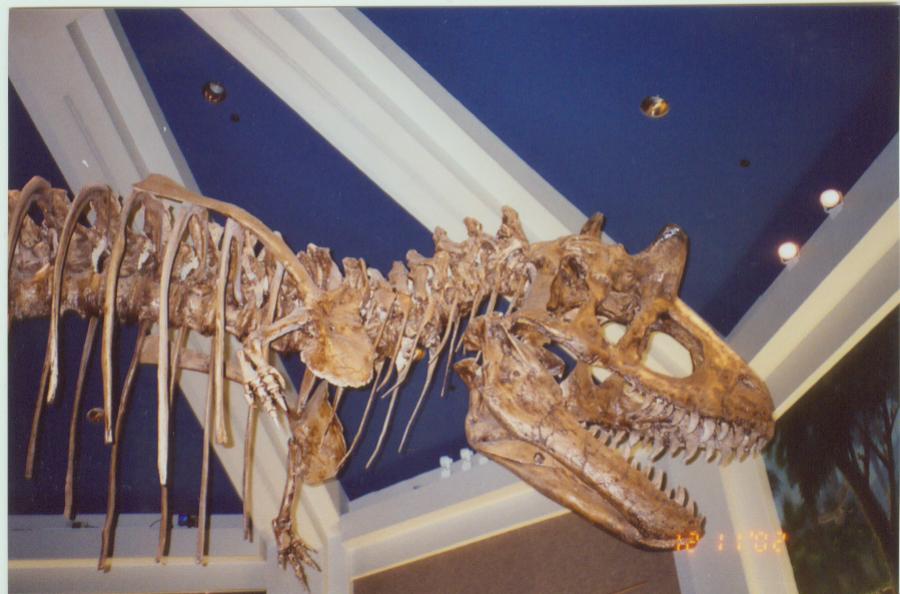 DINOSAUR
Animal Kingdom's biggest thrill ride is located in Dinoland at the Dino Institute. The guests are sent via Time Rovers through time to rescue the last dinosaur from extinction before the asteroid hits (the one that destroyed most life on earth). The only problem is the huge Carnotaurus which wants you for dinner. You must hurry in a race against time.

Cretacious Trail
Check out animals and plants that lived during the time of the dinosaurs on this self-guided tour.
TARZAN Rocks!
The 1,500 seat Theater in the Wild showcases Tarzan Rocks!, a stage based on the hit 1999 Disney animated film. Tarzan, Jane, and Terk envelope guests into the magic and songs of the animated hit along with skateboards and skaters.
Camp Minnie-Mickey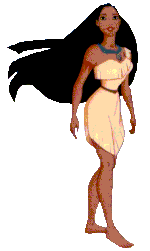 Pocahontas and Her Forest Friends
The forest is in trouble and Pocahontas must find the answer to saving it. This 12 minute presentation involves real actors and live animals the do their part in the show. The lesson is accourse preservation. Note: The cast has reportedly been told this show will end soon to make way for future developments (Beastly Kingdom?).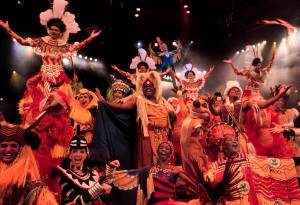 Festival of the Lion King
This seems to be the best live stage show presented in the park and possibly all of WDW. This 30 minute presentation combines live actors, parade floats, Lion King music and songs, and favorite characters. Though the theater holds 1,500, it does tend to fill up pretty quickly. So if you really want to see it before you leave, get there at least 30 minutes before the show time.
Africa

Ever wanted to see amazing animals up close. Well you don't really have to go to Africa but come to Animal Kingdom. Here you can see beautiful landscapes and free roaming animals. The 20 minute adventure allows you to take pictures and learn about those beautiful creatures in the process. BE CAREFUL! The jeeps can be bouncy. Don't lose anything.

Look for giraffes, rhinos, warthogs, and elephants on this safari exploration.
Pangani Forest Exploration Trail
After trying the safari ride, check out this self guided tour which is located on the exit trail of Kilimanjaro Safaris. Made to look like a research station, here you can see creatures up close (not as close as on the safri ride) like meerkats and gorillas. Remember to keep your camera ready for anything.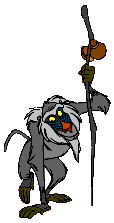 Rafiki's Planet Watch
Named the lame part of Animal Kingdom, much time probably won't be spent here but here are some details. Guests take a 5 1/2 minute train ride past animal buildings and other behind the scene areas of DAK. At Conservation Station you can take a peek at a veterinary lab, animal cams, EcoWeb, and Song of the Rainforest. This area can be easily skipped without missing much but rumors of changes to the area are still alive.
Asia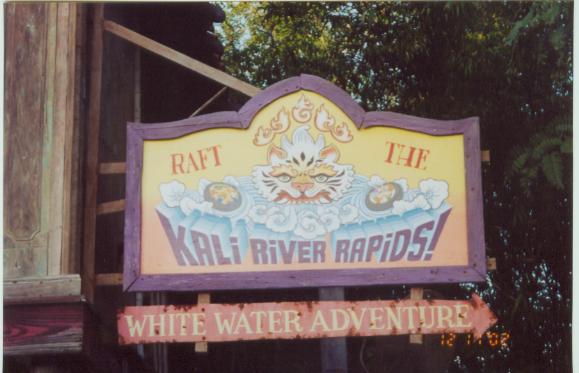 Guests board a 12 person raft presented by Kali River Rapids Expeditions as a trip to explore the vast wild life in the jungle. Unfortunately, it seems that past the mist and ancient shrines people have torn down a vast amount of the jungle. BEWARE! You may not get wet....You WILL get wet! Bring a rain pouncho.

Maharajah Jungle Trek
Guests take this self guided tour through ancient ruins and a vast jungle. They will be able to encounter Tapirs, Komodo dragons, fruit bats, and tigers. They bat exhibit is very neat since there are almost no windows or bars to prevent closer looks at the creatures.
Expedition EVEREST - COMING SOON!!!!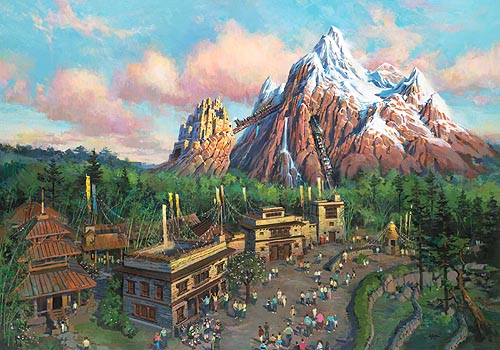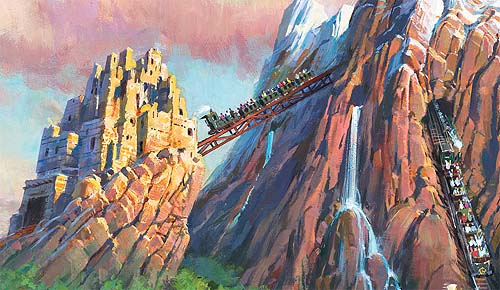 Entertainment
Mickey's Jammin' Jungle Parade
For the 100 Years of Magic Celebration, Animal Kingdom features a brand new parade. Everybody gets into the act including Mickey, Minnie, Goofy, Donald, Pluto, and characters from The Lion King, The Jungle Book and other animal related characters. Make sure to check out the animal puppets that come along for the fun.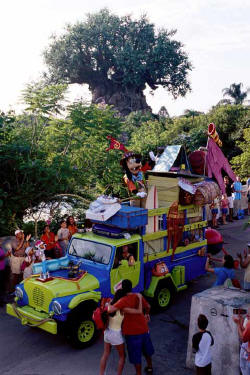 HOT Tips!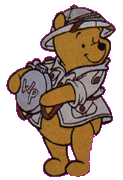 * Animal Kingdom is most crowded on Friday, Saturday and Sunday.
* The Island Merchantile shop remains open half an hour after park closing.
* Arrive at the park at least an hour early.
* Buses take longer to get to and from this park especially for those at hotels farther away.
* Animal Kingdom Tip Board states wait times.
* Hit Kilimanjaro Safaris first thing in the morning before the rush or get a FASTPASS.
* Make sure you have plenty of bottled water.
* Don't get overheated.
* Expedition EVEREST has officially been announced to open in 2006.
* It's Tough to be a Bug! is no longer offering FASTPASS.
* Looks like plans for Beastly Kindom have been cancelled.
* Restaurantosaurus holds a character breakfast in the mornings featuring Mickey, Donald, Pluto and Goofy.
* Look for updates here on Expedition EVEREST as soon as they become available.