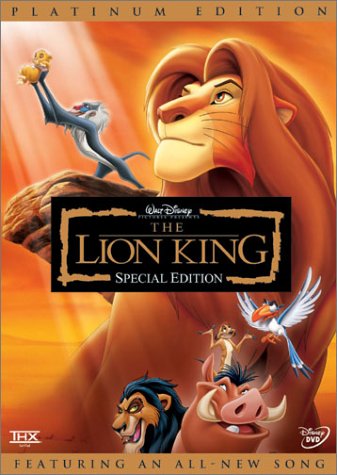 Coming October 7th, 2003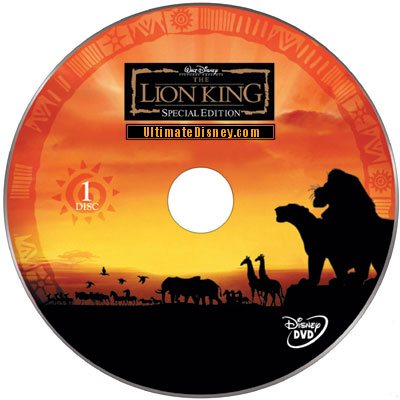 Director: Roger Allers & Rob Minkoff
Young Simba... Jonathan Taylor Thomas
Adult Simba... Matthew Broderick
Mufasa... James Earl Jones
Scar... Jeremy Irons
Timon... Nathan Lane
Pumbaa... Ernie Sabella
Young Nala... Niketa Calame
Adult Nala... Moira Kelly
Rafiki... Robert Guillaume
Zazu... Rowan Atkinson
Shenzi... Whoopi Goldberg
Banzai... Cheech Marin
Ed... Jim Cummings
Premise: Wild Africa is the setting for this animated tale of a young lion cub whose evil uncle usurps his father's crown and lets hyenas overrun the kingdom. Dodging danger and befriending some oddball characters, the cub wanders until the day he's ready to return.
Music by: Hans Zimmer, Elton John & Tim Rice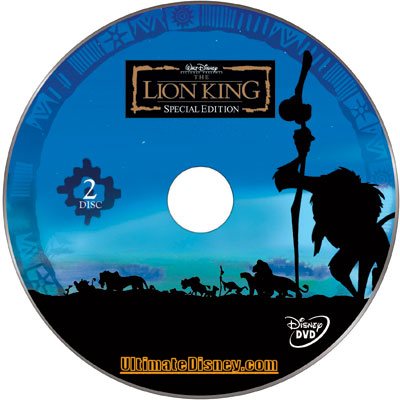 Rated:
Studio: Walt Disney Home Video
DVD Features:
DISC ONE
* Two Versions of the Film - Original Theatrical Release & Special Edition (with the new Elton John/Tim Rice song "The Morning Report")
* 1.66:1 Anamorphic Widescreen
* 5.1 Dolby Digital and Dolby Digital with Enhanced Home Theater (EHT)
* Audio Commentary (probably ported from the laserdisc)
* "The Making of The Morning Report"
* Three Games: The Lion King Personality Profile Game (discover which character you're most like), Pumbaa's Sound Sensations (5.1 Sound-Matching Game) and Timon's Grab-a-Grub (featuring 2-Player Mode)
* Three Deleted Scenes: Bug Football, Warthog Rhapsody, and Hakuna Matata
* Abandoned Concept: Can You Feel the Love Tonight
* All-New Music Video of "Circle of Life" Featuring Disney Channel 'Stars' Hilary Duff), Raven, Christy Romano, Tahj Mowry, A.J. Trauth & more
* Sing-Along Track
* 3D animation created for DVD menus and games

DISC TWO
* Timon & Pumbaa's Virtual Safari - Timon & Pumbaa are your Tour Guides to an action-packed blast through the wilds of Africa
* Animal Journey - learn how real animals inspired the animated Lion King characters hosted by Roy Disney
* Storymaking Magic - the fascinating origin and influences behind the story of The Lion King
* Stage Journey - Behind the scenes of the award-winning Broadway hit musical, including exclusive interviews with writer/artist/director Julie Taymor
* Film Journey - Behind-the-scenes footage, Character design, computer animation, African art inspiration (explore masks, costumes, people and puppets)
* Music Journey - Exclusive interviews with Sir Elton John and Tim Rice and Lion King music videos
* Much, much more!