Opening Day Dedication

'"To all who come to this place of joy, hope and friendship, welcome."

"Epcot Center is inspired by Walt Disney's creative genius. Here, human achievements are celebrated through imagination, the wonders of enterprise, and concepts of a future that promises new and exciting benefits for all."

"May Epcot Center entertain, inform and inspire. And, above all, may it instill a new sense of belief and pride in man's ability to shape a world that offers hope to people everywhere."'

E. Cardon Walker
Chairman and Chief Executive Officer
Walt Disney Productions
Oct. 24, 1982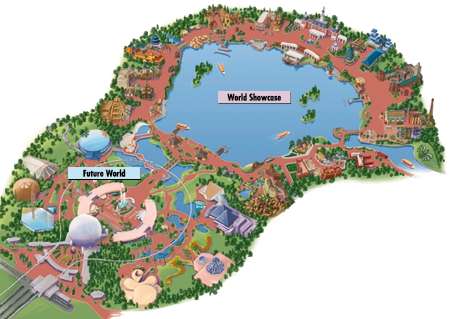 Future World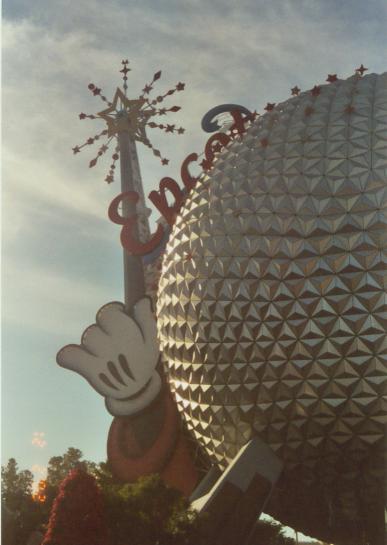 Spaceship Earth
The true icon of Epcot, Spaceship Earth, has an attraction located inside its 180 foot structure. Here guests travel through a tale through narrated by Jeremy Irons (Scar from the Lion King). Guests encounter Cro-Magnon man, ancient Rome, the Renaissance, and the not too distant future. Look for two hidden Mickeys found in the boys bedroom near the end of the ride. After your voyage, check out the Global Neighborhood to play with emerging technologies. Note that the attraction is no longer being sponsored by AT&T but rumor is that Microsoft may take over soon but that is not confirmed.
Innoventions: Road to Tomorrow!

Want to know what the major companies of the world have planned for us? Want to know what new technologies will help us in the future? Well you can find the answers here! Here on the information superhighway Tom Morrow 2.0 guides guests through a self-guide tour of the new technology. There are many different areas to see. Disney Online sponsors "The Internet Zone", IBM showcases new ways to play on your computer, Sega sponsors a huge area filled with just video games, RSNA sponsors an exhibit dedicated to medical technology and there is even a Coundown Area for Mission: Space. Have fun exploring the future!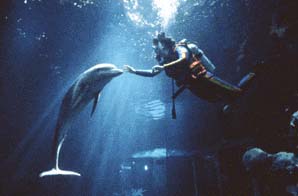 The Living Seas
Here guests can gather a sense of the wonder that is the Living Seas. Did you know that man has spent less time exploring the oceans then the Moon? It's true! Guests can learn exciting new things by observing six million gallon tank that holds 2,000 inhabitants like sea turtles and sharks. Then they board hydrolators and explore Seabase Alpha. Here you can explore how man works under the ocean, how we can care for sea life and what we have plans for the future of the sea.

The Land
Presented by Nestle
This pavilion is dedicated to man's relationship to the Earth and how we get our food from the ground itself. There are three attractions, a food court and a behind the scenes tour.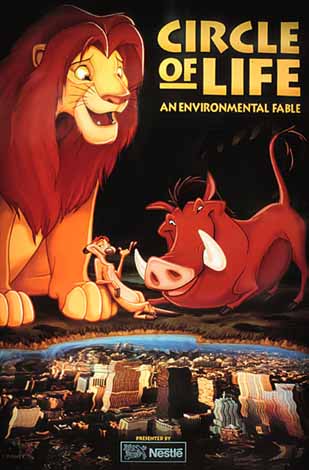 This 20 minute presentation hosted by Simba, Timon and Pumbaa from the Lion King showcases some of the problems dangers on our environment and offers possible solutions. Simba shows Timon & Pumbaa shows that we must take care of the planet in order for us to live.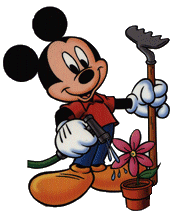 Living with the Land
The 13 1/2 minute boat ride takes guests past scenes of a tropical rainforest, prairie fields, and an old fashioned farm. They also explore an research laboratory and shows how new technology is being used to help man grow food in the future.

Food Rocks
Love music and food? Then this is the show for you! Join the Peach Boys, Chubby Cheddar, Richard, and Get-the-Point Sisters in a 15 minute musical show created to send a message on good nutrition.

Imagination!
Presented by KODAK
The glass pyramids that are the Imagination pavilion houses two attractions and one play area. The entire exhibit will really get your imagination going!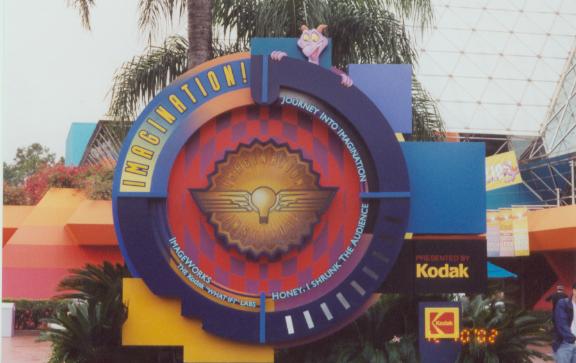 Journey Into Imagination with Figment

Formerly Journey Into Your Imagination, this attraction closed on October 8th, 2001 for an extensive rehab after many complaints. The rehab is a vast improvement from the old rehab but not anything spectacular. You get the feeling that the imagineers got the message the old rehab was trash and they basically plopped Figment in there just to make some people stop complaining. The "One Little Spark" gets annoying after you hear it after each room. Not a huge improvement but better then was expected.
Image Works: What If Labs
This interactive exhibit allows guests to take pictures of themselves and make it into a funny project that can be sent to friends via E-Mail. Other exhibits are presented as well.

Honey, I Shrunk the Audience
The Imagination Institute has thrown open its doors to allow guests to see Mr. Wayne Szalinski accept the Inventor of the Year Award and showcase his Shrinking and Enlarging Machine. Unfortunately nothing goes accourding to plan. The audience is shrunk to the size of an ant, is nearly attacked by a huge snake and is almost engulfed by rats. Everything returns to normal...sort of!

Wonders of Life
Explore the amazing world of the human body! Note that this pavilion was formerly sponsored by MetLife but they have dropped sponsorship and Disney may look for a new sponsor so check on update.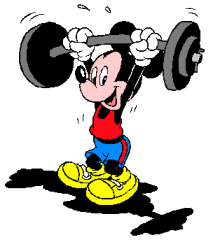 Body Wars
State of the art motion simulator technology allows guests to travel through the human body. Guests going through the blood strem and into the heart, lungs, and brain in this exciting adventure.

Cranium Command
Guests join the Cranium Commandoes in this hilarious misadventure through a day in the mind of a 12 year old boy. Buzzy (who is in charge of the whole body) must guide a teenager through a typical day along with adventures in bullies, school and love. Actors like George Wendt, Bobcat Goldthwait, Dana Carvey, Kevin Nealon, and Jon Lovitz get into the act as parts of the body.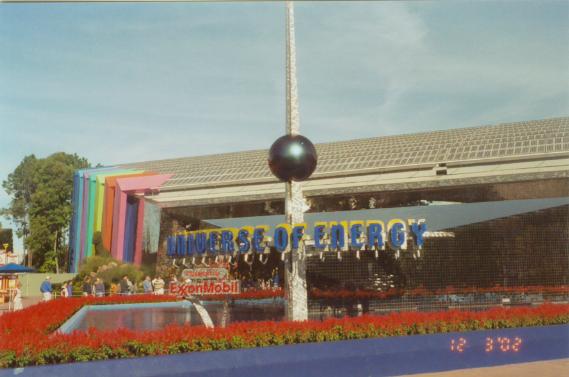 Universe of Energy
Presented by Exxon-Mobile
Ever wonder how the world works and where energy come from? Well wonder no more! When Ellen falls asleep, she is transported into Jeopardy but since the categories are all about energy, she is losing big time! But Bill Nye the Science Guy comes and takes her through the history of energy and what are our options for the future. This attractions lasts about 45 minutes and lines are deleted quickly about every 15 minutes. Save this attraction when you have a lot of time to kill.


Presented by General Motors

Epcot's premiere attraction opened in March 1999 to rave reviews. This exciting thrill ride takes guests through an automotive proving ground just like ones at General Motors. They travel in cars that take them up steep hills, tight turns and extreme heat and cold. They even travel as fast as 65 mph making it the fast attraction in Disney history! Visit Test Track right away in the morning or late at night before the crowds hit. Get FASTPASS if it is crowded when you visit.


Presented by Compaq
This brand new attraction which is set to open in the year 2003 will be the newest thrill ride at WDW as well as the most complex. This ride (details are still sketchy at this point) will send guests into space and have them feel just like astronauts complete with weightlessness. Check in for future updates on this premiere thrill ride.
Opening October 2003!!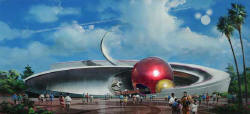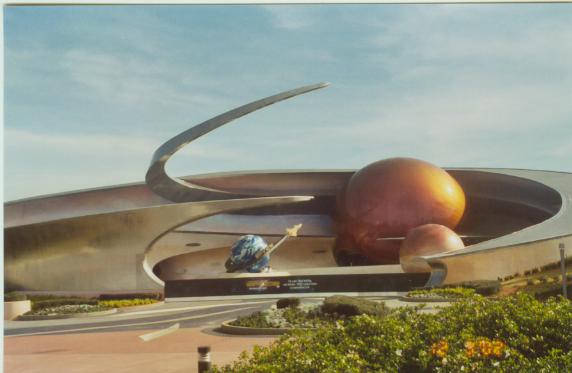 World Showcase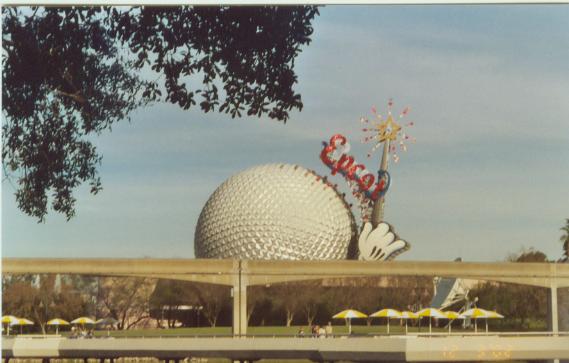 Ever wanted to see the world...in a day?! Well at Epcot you can! World Showcase presents 11 countries for guests to visit. Though they aren't the real thing, they come pretty darn close to it. Each countries offer great restaurants and shops and some have attractions that help guests learn about their country. Remember to pack your walking shoes: the perimeter is 1.2 miles! Good Luck on your travels!
Canada:
This pavilion celebrates the rich cultures of our neighbor to the north. You can visit "O' Canada", a 17 minute 360 film presenting a look at the rich land of Canada, or listen to the sounds of Off Kilter, the rock band which plays here every couple days. The steakhouse here is absolutely fabulous. Enjoy!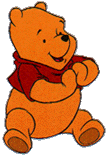 United Kingdom
What do Winnie the Pooh, Peter Pan, Robin Hood and Mary Poppins all have in common? Besides being Disney characters, they have all come from the United Kingdom. Guests stroll down a quiet street in England or stop in a English Pub for a beer or great food. They can also stop by the Toy Solider or Crown & Crest for shopping delights. The Rose & Crown offers a good view of Illuminations: Reflections of Earth.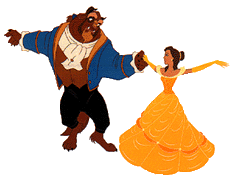 France:
Travel across the small bridge and you are in Paris. Check out "Impressions De France", a 200 degree 18 minute production that showcases the wonders of France with the help of famous classical music, or visit some of the shops that offer perfumes, artwork of French artists, and other luxury items.


Morocco:
The only pavilion that represents the continent of Africa has no attractions but plenty of interesting shops and restaurants. Consider buying carpets, fezs, leather goods or other assortments or watch belly dancers and musicans entertain guests.

Japan:
There are no attractions in this area but plenty of things to look at. The horticulture and the atmosphere is so realistic that it feels like you are actually in Japan. Shops offer silk, Japanese character merchandise and vases for guests to buy. Enjoy the wonders of Japan and relax here for a short time if you are tired.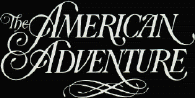 In light of the terrorists attacks on the WTC on September 11th, the American Adventure attraction offers a look at the trials and troubles that America has suffered in the past. It shows how through all that, we have survived to become a world power and a sign of freedom throughout the world. Famous figuares like Mark Twain, Benjamin Franklin and Thomas Jefferson appear in this 26 minute preserntation. Get here early before it gets really crowded, it is very popular especially now. The shops offer historical and patrioctic merchandise and all-American food is served as well.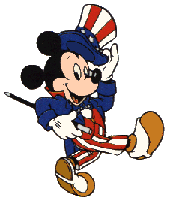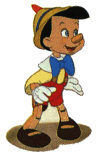 Italy:
This magnificent pavilion takes guests to the romantic city of Venace, Italy and showcases grand arches and other forms of architecture. Though there are no attractions, there are other options. Shops offer Italian wines, foods, chocolates, and leather goods. Fine Italian gourmet food can be tasted at Alfredo's which is pretty pricey so be ready to pay up. Look for Pinocchio or good old Gepetto to appear somewhere in the pavilion.

Germany:
The village in this pavilion is based on a number of small villages in the country of Germany. From the lovely clock to the statue of St. George, this truely Germany. Visit the beerhall of Oktoberfest for a drink and fine German food and entertainment. The shops here sell glassware, cukoo clocks, teddy bears, beer mugs, and wine.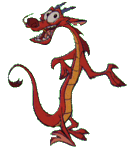 China:
The gentle pavilion of China offers several options. Visit "Wonders of China", a 360 degree film that takes a look at famous sites of China like the Great Wall of China or the Forbidden City, or you can buy Chinese art, silks, and trinkets. "May Good Fortune follow you on your path through life."

Norway
The latest World Showcase pavilion, Norway offers a great attraction, shops, and restaurants. Ride the Maelstrom, where guests board 16 passanger boats and travel trhough the rich viking history of Norway. Shops offer Norweigan gifts, LEGO merchandise, and troll figuares.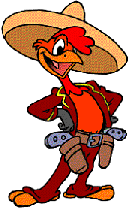 Mexico
The pavilion of Mexico surrounds guests with vast vegatation and awe them with a huge recreation of an ancient Aztec temple. Ride "El Rio Del Tiempo" to get a good sense of the rich culture that is Mexico, no matter how annoying the song is! It showcases Mexican culture from the earliest times all the way to the present. The shops offer sombreros, pottery, glasses, and Mexican assortments. Stop by the restaurant for some high quality Mexican food.
Entertainment
Illuminations: Reflections of Earth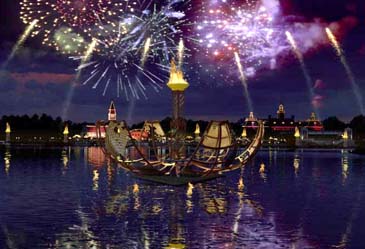 Originally introduced as part of the WDW Millennium Celebration in 1999 & 2000, it has now become a permanent part of the WDW tradition. Within 13 minutes the entire history of the planet Earth from its creation to the ultimate future of mankind in a dazzling display of fireworks, lasers and projections. Watch the finale! It is so amazing and beautiful!

HOT Tips
* Lines are the longest in the morning.
* The Tip Board in Innoventions Plaza states wait times for attractions.
* You can E-Mail funny pictures to friends at Image Works or regular ones at Innoventions.
* Line up to 2 hours for a seat at World Showcase Plaza for Illuminations: Reflections of Earth.
* 'Project Gemini' will devert budget for the 5th Theme Park to build more high tech attractions here in Epcot.
* Don't walk around World Showcase when Tapestry of Dreams is performing.
* Future World will be renamed Discoveryland once Project Gemini is completed in 2006.
* Disney has reportedly filled trademarks for the names SSE: Timeracers and Discoverland for Project Gemini.
* World Showcase may be renamed Global Village.
* AT&T has dropped sponsorship of Spaceship Earth. Microsoft is rumored to take their place. Please look for further updates on this situation.
* Spacheship is rumored to close in 2005 and closed for two years. It is expected to be completely gutted out and replaced by a new attraction called Time Racers.
* GE has dropped sponsorship of Illuminations: Reflections of Earth.
* Test Track is closed when lightning is within a few miles.
* Mission: Space's opening date has been delayed till Fall 2003.
* Check here for updates on the Project Gemini and Mission: Space.
Radisson Hotel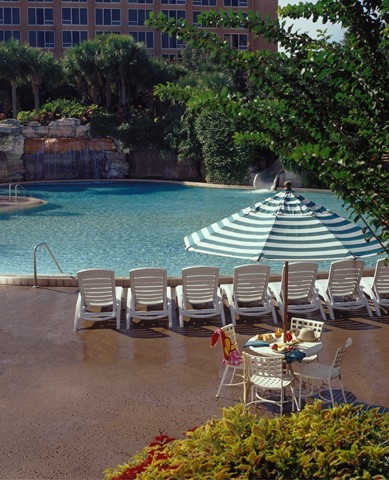 Complimentary, Scheduled shuttles provided to Disney World, Sea World and
Universal Studios