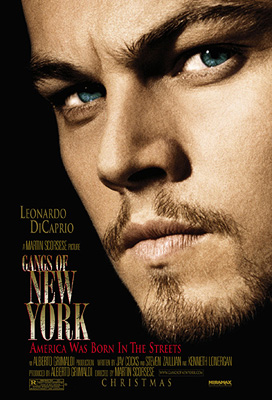 Miramax's Gangs of New York
Released December 20th, 2002
Starring: Leonardo DiCaprio, Daniel Day-Lewis, Cameron Diaz, Liam Neeson, John C. Reilly, Roger Ashton-Griffiths, Barbara Bouchet, Jim Broadbent, Gerry Robert Byrne, Liam Carney, Brendan Gleeson, Stephen Graham, Ford Kiernan, Gary McCormack, Devon Murray, Cara Seymour, Henry Thomas

Director: Martin Scorsese
Premise: In this time of lawlessness and the rampant political corruption that filled the halls of city government, the film follows the story of Amsterdam Vallon (Leonardo Di Caprio), a young Irish-American immigrant. Released from prison after fifteen years, he returns to the Five Points bent on revenge against William Cutting, a.k.a. Bill the Butcher (Daniel Day Lewis), the powerful anti-immigrant gang leader who killed Amsterdams father. Amsterdam knows the first step toward accomplishing his mission is to infiltrate Bill's inner circle. However, Amsterdam finds his difficulties increasing when he meets Jenny Everdeane (Cameron Diaz), an enigmatic pickpocket whose fierce independence and undeniable beauty fascinate him. Yet Jenny has a past too, which unexpectedly complicates his plan.
After many delays, production budget problems, problems on the set and so much more, Gangs of New York finally makes it to theaters. The movie looked to never to make it to theaters after having it opening day moved from December 2001 to February 2002 to July 2002 to arrive a week before Christmas Day 2002. The $100 million budgeted film was directed by one of the most famous directors in Hollywood, Martin Scorsese. Scorsese had the idea for this film nearly 30 years ago and now his vision is brought to life even after much strife. But will this be another masterpiece for the great director or will all the problems overwhelm the Miramax film?

The story goes that Amsterdam Vallon arrives in the city of New York after spending 16 years in jail. He once lived in the mean streets of New York before his father was killed by a man named Bill the Butcher, who fought to protect the rights of the "natives" of this country. Amsterdam joins the Butcher's group of "natives" and becomes very close to him. Along the way, he meets up with old friends who have either gone into hiding or joined the side of the "natives". Amsterdam soon makes the decision that the Irish immigrants can't live in such horrible conditions any longer and so goes after his father's killer for the sack of the people of America. The story of Gangs of New York is a neat one at that but by the end, the audience is way too confused. The historical aspect of the film would have been fine by itself but by adding the Amsterdam subplot, the stories get so jumbled together that it is unclear what is exactly going on.

Gangs of New York is the second film for Leonardo DiCaprio to open around Christmas Day 2002 and he continues to show that he can't boast his acting ability outside of Titanic. The character of Amsterdam Vallon is way too complicated to fully understand but that is not the fault of DiCaprio. He does his best to make the audience accept as this Irish immigrant and he does a pretty good job at it. Daniel Day-Lewis was fabulous as Bill the Butcher. Lewis presents a great New York accent that makes him seem like a true American "native" in the 1860's. The only character that didn't seem in place was Cameron Diaz's Jenny. Once again, this is not the actor's fault but of the writer's. Diaz does a good job acting this character out but by the end of the film, her character seems very pointless to the story.

Overall, Gangs of New York was a big disappointment. Of the many problems, the thing that sticks out the most is the story. The era of the 1860's is a fascinating time to set a film against but the historical aspects are too jumbled together when that story is joined together with the Amsterdam Vallon story in Gangs. It was not much appreciated that the cause of the Union, which was to abolish slavery, was put in such a bad light. It is understood that many people didn't like the draft but some aspect to explain the draft should have been added. The government is looked on as a monster in this film which is not true at all. The film just seemed too dragged on. For three hours the movie looks to be going into one direction to just then turn around and go in another direction. Gangs' ending was too predictable. Scorsese could have saved at least a hour and a half of the audience's time by cutting out many unwanted scenes to direct straight to the bad ending. There are some things to like about Gangs of New York but they are so few that they not be mentioned here. See the film only if you really want to see it. If not, then wait for rental on DVD.

My Rating: *** out of 5 (Grade: C)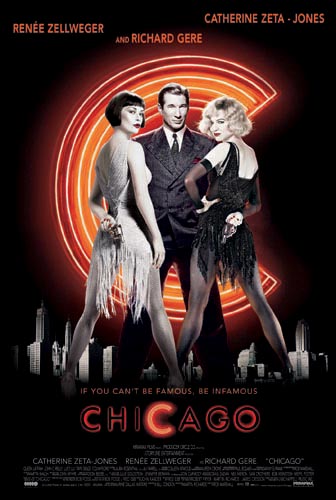 Miramax's Chicago
Released December 25th, 2002
Starring: Renée Zellweger, Catherine Zeta-Jones, Richard Gere, John C. Reilly, Christine Baranski, Dominic West, Mya, Queen Latifah
Director: Rob Marshall
Premise: Everyone loves a legend, but in Chicago, there's only room for one. Velma Kelley (Zeta-Jones) burns in the spotlight as a nightclub sensation. When she shoots her philandering husband, she lands on Chicago's fames murderess row, retains Chicago's slickest lawyer, Billy Flynn, and is the center of the town's most notorious murder case, only increasing her celebrity. Roxie Hart (Zellweger), seduced the the city's promise of style and adventure, dreams of singing and dancing her way to stardom. When Roxie's abusive lover tries to walk out on her, she too ends up in prison. Billy recognizes a made-for-tabloids story, and postpones Velma's court date to take on Roxie's case. Infamy is Roxie's ticket to stardom. Billy turns her crime of passion into celebrity headlines, and in this town, where murder is a form of entertainment, she becomes a bona fide star - much to Velma's chagrin. As Roxie fashions herself as America's sweetheart, Velma has more than a few surprises in store, and the two women stop at nothing to outdo each other in their obsessive pursuit of fame and celebrity.
Storyline Entertainment has had huge success reviving old musicals. Such projects included Cinderella and Annie on ABC a few years ago and the upcoming Music Man starring Matthew Broderick of The Producer's fame. And now they try their chances with Chicago for Miramax films. But a revival of this musical was attempted on Broadway a year and since then the musical was shut down mostly due to the effects of September 11th. Will the film version of Chicago be another great success for Storyline Entertainment or will it be the first failure for the musical team?

The story of Chicago focuses on the lovely Roxie Hary who is willing to do anything to get the fame that a star like Velma Kelly has including cheating on her husband with a guy that claims to have connections in the business. When she finds out that this man is playing her, she takes a gun and shoots him and then shoots again. Roxie falls into a new world of deception and lies where she is competing with Velma Kelly for the famous lawyer Billy Flinn, who has never lost a case with a woman client. But who will come out on top in Chicago? The story of Chicago is fabulous done. The musicals sequences do not come off as tacky thanks to the idea of letting these numbers be from the imagination of Roxie Hart instead of the usual one liner that sets up the song.

The one thing to note about this movie version of Chicago is that all the actors did their own singing. The biggest surprise of the bunch was Richard Gere who played lawyer Billy Flinn. Who knew this guy could sing that well? The favorite numbers such as Razzle Dazzle and All I Care About came from him Cathrine-Zeta Jones is actually a Broadway veteran and shows off her stuff is great style. Renee Zellweger is good as Roxie Hart but there could have been someone just a little better to play this role. The look was there but the dancing and the singing for her role was just slightly disappointing. John C. Reilly does a great job in the Mister Cellophane number as well as Queen Latifah as Mama Morton.

Overall, Chicago was as good and better then all the buzz suggested for this musical. The songs were the best that had been heard in a film for a long time. The best included Razzle Dazzle, Mister Cellophane, and the Cell Block Tango. The story didn't come off as tacky and the musical numbers were fabulously well done. The cast was great except for two members. Renee Zellweger was good but was not a great choice for the role of Roxie Hart. Another bad character was Lucy Liu, who seemed kind of pointlessly added in the story though it helped play out rest of the story. They could have done more with her character. The comeback of the movie musical was started by Moulin Rouge but Chicago continues the surge with full force. Chicago is one of the best musicals seen in years and quite possibly one of the best of the year. Make it your high priority to see this wonderful film.

My Rating: ****1/2 out of 5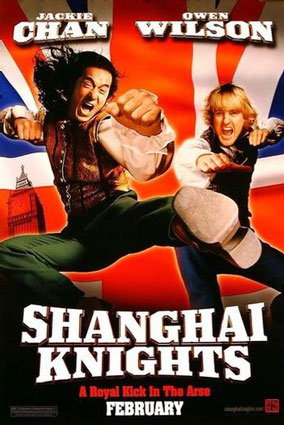 Touchstone Pictures' Shanghai Knights
Released February 7th, 2003
Starring: Jackie Chan, Owen Wilson, Fann Wong, Donnie Yen, Gemma Jones
Director: David Dobkin
Premise: After taming the wild west in the comedy, "Shanghai Noon," Chon Wang (Chan) and Roy O'Bannon (Wilson) are back in the saddle, but off the range this time, they're out to settle a score in civilized London in the sequel, "Shanghai Knights." When a Chinese rebel murders Chon's estranged father and escapes to England, Chon and Roy make their way to London with revenge on their minds. Chon's sister, Lin, has the same idea, and uncovers a worldwide conspiracy to murder the royal family but almost no one will believe her. With the help of a kindly Scotland Yard Inspector and a 10-year-old street urchin, the acrobatic Chon gives Victorian Britain a kick in the pants as he attempts to avenge his father's death and keep the romance-minded Roy away from his sister. Hilarious escapades and hair-raising adventure await our heroes, as they do for Big Ben, Madame Toussaud's, and the Convent Gardens what they did for the Old West.
Jackie Chan and Owen Wilson first teamed up in the modestly budgeted comedy, Shanghai Noon. The movie had a moderate $15 million opening weekend but went on to gross $56 million by the end of its domestic run in theaters. After a good following on home video, Touchstone Pictures has decided to increase the sequel's budget to $50 million and see if the magic can work better the second time around. Both stars need a big hit as The Tuxedo and I Spy failed to become big hits at the box office recently. But will the reteaming of Chan and Wilson bring in the big bucks or will other films outshine this comedy sequel?

The story goes that the cowboy team of Chon Wang and Roy O'Bannon are back together again on a special mission. They must travel to London after Chon learns that his father, who is keeper of the royal seal, is killed and the seal of the emperor has been stolen. They must travel even more quickly as they learn that Chon's sister has gone after the killer herself. Things become even more complicated as Roy falls head over heels for Chon's sister. Both Chon and Roy must join forces with some strange London characters in order to catch the killer. The story of Shanghai Knights is okay for a comedy of this kind but it does seem slow in many parts. Less talking and more action would have been better then what was given to the audience.

The acting was what you would expect from a comedy of this kind, just okay. Jackie Chan has a field day with all the brand new action sequences he has in this film. His English makes it difficult for any scene in which he is speaking seems understandable but it works better then his earlier films. Owen Wilson does as good of a job as what is presented to him. He can't do more then what is presented in the script and that is what the audience expects. The performances by the other characters were moderate at best. There were not many who stood out within the film because their acting was what the audience expected.

Overall, Shanghai Knights is another good time at the movies during the slow season at the box office. The main thing that this film suffers from is predictability. The film performs at every level it is expected to and doesn't surprise the audience by doing something that had not been done in the first film or in other films of this kind of genre. The action sequences were the best that have ever been performed in a Jackie Chan film. Jackie Chan really out does himself in Shanghai Knights. The story, outside of predictability, suffers in that it slows down a lot in certain parts of the film before picking up again with an action sequence or two. Shanghai Knights is just another good popcorn films to catch during the slow season at the box office, so catch the film if you have the time during the weekend. If not, there is always Daredevil coming out Valentine's Day weekend.

My Rating: ***1/2 out of 5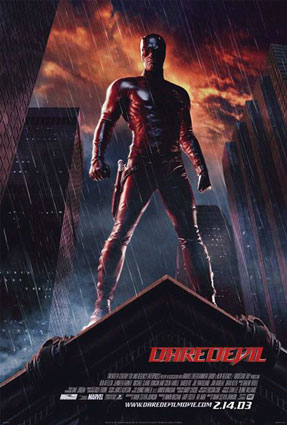 20th Century Fox's Daredevil
Released February 14th, 2003
Starring: Ben Affleck, Colin Farrell, Jennifer Garner, Michael Clarke Duncan, David Keith, Joe Pantoliano, Scott Terra, Ellen Pompeo, Leland Orser, Kevin Smith
Director: Mark Steven Johnson
Premise: Attorney Matt Murdock is blind, but his other four senses function with superhuman sharpness. By day, Murdock represents the downtrodden. At night, he is Daredevil, a masked vigilante stalking the dark streets of the city, a relentless avenger of justice.
After the amazing success of X-Men and Sony's success with Spider-Man, 20th Century Fox jumps back into the superhero ring with their film version of the man without fear. Rising star Ben Affleck has been brought aboard to star as Daredevil while Alias star Jennifer Garner will play opposite Affleck. The studio is hoping that the big star power, great marketing campaign, and good timing will help recoup the $75 million budget and then some. But will the film version of Daredevil be accepted by the American audience or will the film be blinded by its own hype?

The story goes that Matt Murdock is your typical guy living in New York City. But there are several things about this lawyer that are not ordinary. First, Matt is blind but that doesn't bother him much considering his other four senses work with superhuman ability. With these heightened senses, he develops radar like sight and he soon masters this new ability. After his father is killed, Matt dedicates his life to protecting the innocent and becomes Daredevil when the sun goes down. His life becomes complicated dealing with both an ordinary life as a lawyer during the day and becoming Daredevil at night but when he meets Elektra things become more complicated especially when Bullseye and Kingpin go after the devil. The story for Daredevil was very well developed. The audience may not know a lot about the comic book character and that is fine. Starting the film in the middle of the story and then backtracking was great idea that is rarely seen many times today.

All the characters were fabulously portrayed in the film. Ben Affleck is definitely becoming a rising star after such films as Armageddon, Pearl Harbor, and The Sum of All Fears but this is probably the most serious role of his career. He plays Daredevil down to the letter and seems to have fun with this role. Jennifer Garner had a better character then she had in Catch Me If You Can a few monthes ago and really shows her acting ability. Would have preferred seeing more of her character's development but nothing big to complain about. Colin Farrell was amazing as Bullseye. His character freaked the audience out which is what Bullseye is suppose to do. And Michael Clark Duncan was great as the Kingpin. Duncan usually plays funny or dramatic characters like in The Whole Nine Yards or The Green Mile but really goes beyond what he usually has done here.

Overall, Daredevil is sure to remain one of the top films of the year. The story was fabulously well done and ended the way it should by leaving the audience guessing at what is going to happen in the next chapter of the saga. There were some problems with Daredevil though. The slow motion used in the fight scenes got annoying and seemed kind of stupid within parts of the film and weren't really neccessary. Another problem was the time length. Not that it was too long but seemed too short. There could have been more explained but better leave some things unanswered until the sequel comes out. In the end, those problems seem trivial. Daredevil is a great film that goes beyond the expectancy of films released around this time period.

My Rating: ****1/2 out of 5 (Grade: A-)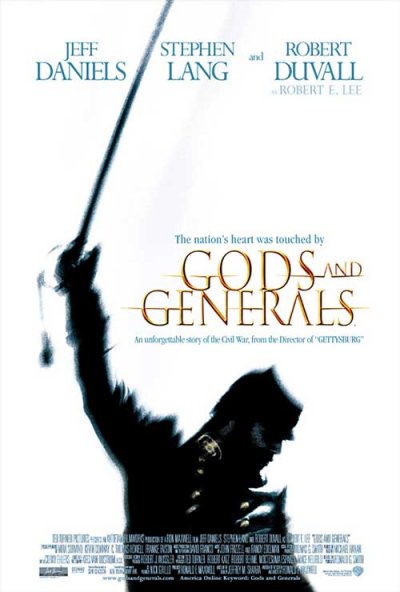 WB's Gods and Generals
Released February 21st, 2003
Starring: Robert Duvall, Stephen Lang, Jeff Daniels, Mira Sorvino, Bruce Boxleitner, Kali Rocha, Jeremy London, William Sanderson, Stephen Spacek, Scott Cooper, Mia Dillon, Fred Griffith
Director: Ronald F. Maxwell
Premise: Gods and Generals, the epic screen adaptation of Jeff Shaara's heralded best-selling novel, is a dramatic look back at the Civil War America's bloodiest conflict, in which more than 620,000 lives were lost. A prequel to the acclaimed screen drama Gettysburg, also directed by Ron Maxwell, the film is based on events that are sweeping in scope and made all the more compelling by the human-scaled drama it depicts.
The era of the Civil War, a time of great conflict in our nation, has been of great interest to many who study the history of the United States. The Civil War was the bloodiest conflict on American soil for many years and the last great war to be fought in our own country. As southern states quickly succeeded from the Union, young men of the north were asked to help fight the rebels who wanted to rip this great nation apart. The North fought for preservation of the Union while the South fought for state rights and the preservation of slavery. The war was hard on everybody as brother fought against brother, sons against their fathers, families against families. No war had ever divided a nation so greatly as this one. The film Gettysburg, original planned for television viewing only until it was decided to be released into theaters, gave a glorious view into possibly the greatest and most well known battle of the Civil War. Though the film was not a box office success, it was glorified for its artistic merit. Can the prequel Gods and Generals do the same or will the lengthy film be killed in action?

The story follows the early days of the Civil War all the way up to right before the Battle of Gettysburg in July 1863. Much of the focus of the film follows T.J. Jackson, who is commander of the Virginia division for the Confederate army, but the film also follows around General Robert E. Lee, who is in charge of the Army of Northern Virginia, and Joshua Lawrence Chamberlain, who is an officer in charge of the 20th Main division of the Union. Several battle are shown within the course of the film including the Battle of 1st Bull Run, Fredericksburg, and Chancellorsville. The story for Gods and Generals is well done but there is some disappointment. There was a feeling that the film spent too much time involved in the small stories and speeches then on the battles that actually occurred within the early days of the Civil War. The fact that the Battle of Antietam, the bloodiest battle in the Civil War, was not included in the film was of huge disappointment. There was also too much confusion trying to keep track of so many personal stories that it became too much within the course of the four hour film.

It is hard to focus on just one performance with a film such as Gods and Generals but maybe it is best to focus more on the lead characters then anything else. Possibly the best role within the film was performed by Stephen Lang, who portrayed Thomas "Stonewall" Jackson. Lang gave a stirring performance as "Old Blue Eyes" showing the great difference of Jackson's actions on and off the battlefield. Jackson's death at the end of the film should bring many historians to tears for being so dramatic. Another fabulous portrayal was of Joshua Lawrence Chamberlain performed by Jeff Daniels, who was in the film Gettysburg as well. It was kind of disappointing that he is not seen at the end of the film to transition into the film Gettysburg but not a huge flaw. Robert Duvall takes over for Martin Sheen as Robert Edward Lee in the prequel to the famous film. Duvall has the look down as well as some famous lines from the Confederate general but Lee is not seen much within the film which is quite disappointing as the ads make it seem like he is the main focus. There are too many small performances to make huge note of but they are brilliantly performed by this great cast.

Overall, Gods and Generals is a good film on the Civil War but not a spectacular one. With success in many areas comes some failures. The time length was too much at a stunning four hours but the intermission was well placed. Some conflicts involving the Southern view of slavery and blacks in the army argues against historic records. The focus of the film also seemed to be too Southern biased as much focus was placed with the Union as much as the South. The biggest disappointment was exclusion of the Battle of Antietam, which Jackson was a part of. Though there were errors, the film wasn't all disappointing. Civil War buffs will be proud to hear lines like "He may have lost his left arm but I lost my right" from Lee or Jackson saying, "Let us rest under the shade of the trees" right before he dies. Another great surprise was the inclusion of songs like "Dixie" and "Bonnie Blue Flag" though the film could have included some Northern songs as well. The original song "Going Home", which can be heard in the opening of the film, was masterfully well done. Gods and Generals does what it was set out to do which was to give an epic portrayal of the early days of the Civil War. Though some may be disappointed with the toned down versions of famous battles, they will be happy to see that history can be brought to life in such splender.

My Rating: ***1/2 out of 5 (Grade: B-)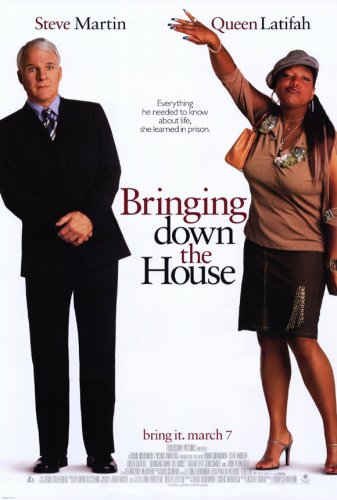 Touchstone Pictures' Bringing Down the House
Released March 7th, 2003
Starring: Steve Martin, Queen Latifah, Eugene Levy, Joan Plowright, Missi Pyle, Jean Smart, Betty White, Kimberly J. Brown, Michael Ensign, Aengus James, Angus T. Jones, Matt Lutz, Victor Webster
Director: Adam Shankman
Premise: Peter Sanderson (Martin) is a divorced, straight-laced, uptight attorney who still loves his ex-wife (Smart) and can't figure out what he did wrong to make her leave him. However, Peter's trying to move on, and he's smitten with a brainy, bombshell barrister he's been chatting with on-line. However, when she comes to his house for their first face to face, she isn't refined, isn't Ivy League, and isn't even a lawyer. Instead, it's Charlene (Latifah), a prison escapee who's proclaiming her innocence and wants Peter to help clear her name. But Peter wants nothing to do with her, prompting the loud and shocking Charlene to turn Peter's perfectly ordered life upside down, jeopardizing his effort to get back with his wife and woo a billion dollar client (Plowright). In the end, our unlikely pair has the chance to put each other's lives on higher ground... if they don't end up bringing down the house.
From an early look at the March schedule a couple of months ago, Bringing Down the House looked to another typical comedy starring funny-man Steve Martin. But things have changed pretty quickly for the film. Queen Latifah, who stars opposite Martin, was just recently nominated for Best Supporting Actress for her role in the film adaptation of Chicago. Adding more Oscar glamour to the film is the movie's star, Steve Martin, who was given the position as host of the 75th Academy Awards. This doesn't mean that the film has more potential with critics but it may give people a better reason to rush out to the local Cineplex and catch the flick. But will the comedy fly high with audiences or will it trip like so many others in the past?

The story goes that Steven Martin plays an up-tight tax lawyer named Peter Sanderson. He is recently divorced, spends very little time with his kids, and at odds with a fellow tax lawyer who is battling to woo a billion dollar client to invest in the firm. Taking a break from his hectic life, Peter decides to go online and chats with a very interesting woman lawyer. He sets up a blind date at his house but she visits, she isn't what he was expecting at all. She not a lawyer but in fact a convicted criminal who escaped from jail. Now she won't leave until he takes her case and proves her innocence. The story for Bringing Down the House is a complexing one at that. The film has large moments of hilarity but has way too many racist comments and statements that make the civil rights movement look like a joke. Some jokes are innocent but some audience members may be too offended by some the jabs at racist views.

Though the story is a problem doesn't mean the acting is good. Steve Martin proves himself to still hold as the King of Funny. Martin does a hilarious job trying to play a "home boy" in "the hood" which was partially featured in the trailer for the film. Bringing Down the House is certainly not Chicago but Queen Latifah still does a fabulous job. Her role could have been a whole lot funnier but she works with what is given to her and she performs well with that. The highlight of the entire film has to be Eugene Levy. He hilarious in the two films for American Pie and continues to showcase his comedic genius here. The best scene he performs has to be at the very end of the film. Make sure to catch it, with no hints given here.

Overall, Bringing Down the House is a very funny film but at a big cost. The story hurts it more then anything else. The story focuses too much the relationship between Queen Latifah and Steve Martin's characters rather then focusing on the rebonding of Peter Sanderson and his estranged. By some miracle they decide to throw in a happy ending solution between the two at the end without focusing much of the story at all on them. The racy jokes are a little too much to deal with. Some of those jokes may fly by some people but for those who understand them, they can be pretty insulting. This is probably the best cast a comedy could have but they can't really do much outside of the script to help this troubled picture. The films is okay to catch once but only if you really need to see Steve Martin and Eugene Levy in the same comedy. If not then catch the film on DVD in a couple of months, if you feel like going to the local Blockbuster and renting it.

My Rating: *** out of 5 (Grade: C)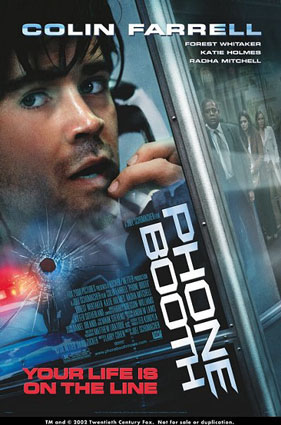 20th Century Fox's Phone Booth
Released April 4th, 2003
Starring: Colin Farrell, Forest Whitaker, Kiefer Sutherland, Katie Holmes, Radha Mitchell, Richard T. Jones, Maile Flanagan
Director: Joel Schumacher
Premise: A phone call can change your life, but for one man it can also end it. Set entirely within and around the confines of a New York City phone booth, "Phone Booth" follows a slick media consultant (Farrell) who is trapped after being told by a caller - a serial killer with a sniper rifle - that he'll be shot dead if he hangs up.
There are millions of cell phones in the United States alone. Hundreds of millions in Japan, England as well as other European countries are used every day. But when was the last time you used a phone booth to call your wife or to call a client or something like that? Not many people can really say "Just recently" in the modern high-tech world we live in today. But the phone booth is the backdrop for the new thriller starring rising star Colin Farrell. The film has been delayed several times due to the recent sniper shootings in the Washington D.C. area but has finally made it to theaters. But will the delay kill the project or will movie-goers rise above the bad memories and catch the flick?

The story goes that a man named Stu Shepard who is a big shot New York publicist. He makes many phone calls day in and day out to many clients. But today is different. For once, he is getting a call. Not from his cell phone but from a phone booth. A phone booth that is planned to torn day the next day. Stu does not know the man who is calling him but he does everything the man tells him. Why? The man who calls Mr. Shepard is a man who is aiming a sniper rifle right at him and if Stu does something he doesn't like then somebody has to pay for his mistakes. Stu is forced to face his fears including the thoughts he has had about cheating on his wife. The story for Phone Booth is very well done. Going into this film, you might be a little worried about the film especially after the recent sniper shootings in Washington but the film is presented in the right tone so no one is offended by any material presented within the course of the feature. Another worry is the director, who many blame for killing the Batman film franchise but those worries should be put to reset with Phone Booth.

The cast of Phone Booth is very well assembled. There were many A-list actors offered the lead role in Phone Booth. Among those actors were Jim Carrey, Will Smith, and Brad Pitt. But perhaps it was better they did not land the role. In this type of situation, the celebrity playing a character in a phone booth is just a celebrity in a phone booth. You don't actually feel for the character if you know they are an A-list actor. Colin Farrell, who is becoming a rising star being featured in such films as Minority Report, The Recruit, and Daredevil, is the perfect match for the film. Since he is not as big as a star like Tom Cruise, he makes you feel worried for him throughout the course of the film but his rising star power does take some of that feeling away as well. Though you do not see him much in the film, Kiefer Sutherland is fabulous as the voice of the sniper. It is more difficult to convince an audience that you are a certain character just by using your voice then it is acting on screen and the movie audience should applaud what he does for this film. Maybe it was better he was not seen with many recognizing him only for his work on the television series 24 more then anything else. Forest Whitaker, who is the host of the new Twilight Zone on UPN, is pretty good but you don't see much character development from him which is slightly disappointing. Katie Holmes is fine as the girl Stu is interested in but you only see her in a few scenes so her character is nothing more then a small spot within the course of the whole film. Not that her character is not important but you never get to see her full range of acting.

Overall, Phone Booth is very fascinating thriller that is highly recommended especially with the large amount of low rate fare that is currently out in theaters. Though the film is wonderful, there are some things to pick at. Such things include the length of the film. The film seemed too rushed at moments. Another thing to pick at is the use of slow motion and fast motion effects throughout the course of the feature. Some of them were well placed but many were unnecessary. This was also a problem in another Colin Farrell feature, Daredevil. Also some of the characters could have used better character developments then they received. Other then those small things, Phone Booth is highly recommended except for those who may have bad memories about the recent sniper shootings in Washington or any terrorism attack for that matter.

My Rating: **** out of 5
Columbia's Anger Management
Released April 11th, 2003
Starring: Jack Nicholson, Adam Sandler, Marisa Tomei, Heather Graham, Luis Guzman, Lynne Thigpen, Krista Allen, Woody Harrelson, John Turturro, Allen Covert, Kurt Fuller, January Jones, Jonathan Loughran, Lou Rawls, Harry Dean Stanton
Director: Peter Segal
Premise: Dave Buznik (Sandler) is usually a mild-mannered, non-confrontational guy. But after an altercation aboard an airplane, he is remanded to the care of an anger management therapist, Dr. Buddy Rydell (Nicholson), who could probably use some anger management himself.

From a distance, the poster image of Anger Management doesn't seem to make sense but this film should be an interesting move for both of its stars. Jack Nicholson has been some-what tight cast into Oscar worthy films and hasn't really colored outside the lines which isn't altogether bad but this can make Nicholson look too predictable in his role picking. Adam Sandler, a former Saturday Night Live cast member, had the same tight-casting problems until his role in the P.T. Anderson film, Punch Drunk Love, which really didn't strike a cord with his hard-core fans. Sandler is also coming off the failure of his first (and possibly last) animated endeavor, Eight Crazy Nights. Can Anger Management bring renewed faith in the actors' hard-core group of fans or will it dampen their hopes of redemption after a horrible film?

The story goes that a man named Dave Buznik has life all going for him until a horrible incident on an airplane that sends him into the hands of Dr. Buddy Rydell and his anger management class. Dave is usually a very quiet guy who doesn't like to make any kind of public scene which would include kissing his girlfriend in front of a large group of people. All Dave wanted was a pair of head-phones so he could listen to the movie but after several attempts at asking the flight attendant, Dave asks once again and appears to get out of control from the view of others. When Buddy takes Dave under his wing, Dave begins to see that Buddy is just as nuts or even more so then his patients. As hard as he tries, Buddy's program seems to be back-firing and raises new anger in Dave. The story of Anger Management is a mixed bag at best. The story could have gone in a better direction but it is hard to say where exactly. The film starts off too slow at the beginning but starts to pick up after the first twenty minutes.

When seeing a film like Anger Management, you really don't expect Oscar worthy acting and you really shouldn't expect anything different with this. Adam Sandler is good actor but much of his funny moments come when he gets angry and somewhat psychotic. It is really hard for any actor to be tight cast but for Sandler, it really works well. Hopefully their will be more opportunities to show off his full range of acting like his role in Punch-Drunk Love. Jack Nicholson is great in this film. In a very rare moment, you get to see Nicholson act in a film just for the fun of it. Most expect him to be placed just in Oscar worthy films and playing sympathetic characters like he portrayed in About Schmidt but he offers something different that may break his mold of tight casting. The other characters in the film never really got to showcase much acting since the films was primarily focused on Sandler and Nicholson but they performed like most Sandler films.

Overall, Anger Management is a good comedy but not either Sandler's or Nicholson's best work. Certainly Sandler redeems after the embarrassment of Eight Crazy Nights but there are many out there who would agree that either the Waterboy or Big Daddy were much better then this. The main problem with Anger Management was that it was never really consistent. For the first twenty minutes, the feature starts off really slow but kicks into a big batch of laughs that gets the audience rolling on the floor. After that, it stalls and starts up again several times which makes it a problem for many audience members. Another problem was that many of the main jokes in the film were seen in the trailer and though there were many other jokes, they weren't as funny as the ones that were featured in the trailer. Is it really necessary to draw people to a Sandler film by giving away much of the main jokes in the film? Besides those problems, there were some good things to point out. The level of product placement in this film is a huge notch down from Sandler's previous films which is a bit of a relief. Sure it keeps costs down but it just comes off as cheap to some. The combination of Sandler and Nicholson really works but they aren't given too much to act off of. More then likely, most of the public will go see this film since is that last big film until X2 opens in early May but for those of you still deciding, see it but take caution. The film is a good popcorn flick but nothing extraordinary. Anger Management is definitely, though, a great end to the pre-summer season for movies.

My Rating: ***1/2 out of 5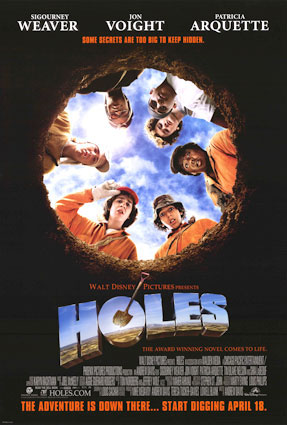 Disney's Holes
Released April 19th, 2003
Starring: Sigourney Weaver, Jon Voight, Patricia Arquette, Shia LaBeouf, Tim Blake Nelson, Khleo Thomas, Jacob Smith, Byron Cotton, Brenden Jefferson, Miguel Castro, Siobhan Fallon, Max Kasch, Henry Winkler, Nathan Davis, Scott Plank

Director: Andrew Davis
Premise: Based on the award-winning book by Louis Sachar, "Holes" is a funny and poignant coming-of-age adventure. It tells the story of Stanley Yelnats (LaBeouf) - an unusual young hero, dogged by back luck stemming from an ancient family curse. Perpetually in the wrong place at the wrong time, Stanley is unfairly sentenced to months of detention at Camp Green Lake for a crime he didn't commit. There, he and his campmaters - Squid, Armpit, ZigZag, Magnet, X-Ray, and Zero - are forced by the menacing warden (Weaver) and her right-hand men Mr. Sir (Voight) and Mr. Pendanski (Nelson) to dig holes in order to built character. Nobody knows the real reason they're digging all these holes, but Stanley soon begins to question why the Warden is so interested in anything "special" the boys find. Stanley and his campmates must stick together and keep one step ahead of the Warden and her henchmen as they plot a daring escape from the camp to solve the myster and break the Yelnats family curse.
Around this time of the year, most studios try to dump moderate films that have a relatively small budget right before the beginning of the summer season. But Disney hopes to make somewhat a big profit with their film version of the famous children's book, Holes. Though the commercials on television make it seem like the book Holes is a hugely famous book, there are many out there that have never even heard of it. The marketing for the film has targeted many demographics in hopes of bringing in a huge audience but Disney is not taking any chances so they have brought in stars like Sigorny Weaver and Jon Voight to help the tweener flick. But all this work and hopefully make this film another Remember the Titans for Walt Disney Pictures or will it fail like Piglet's Big Movie?

The story focuses on Stanley Yelnats the Fourth, who gets in trouble with law after he is accused of stealing a pair of baseball shoes from a famous baseball player that was given to raise money for the poor. Stanley's grandfather blames it on the family curse which was started by Stanley's great grandfather who forgot to carry an old fortune teller up a mountain to let her gain more strength after he had taken a pig from her in an attempt to marry a young woman in his local village. Stanley is sent by the court to Camp Greenlake for eighteen months. Unfortunately this is no paradise trip for him. The lake dried up over a hundred years ago and the Warden forces the little troublemakers to dig holes everyday in the desert. But in this terrible situation, Stanley hopes to break the family curse and make a life for himself. The story of Holes is very well done. There is enough slapstick humor to keep the young children entertained but enough story twists and tense moments to not bore the adults.

The cast of Holes is amazing considering that many of them are unknowns to the movie-going audience. Shia LaBeouf, who can be seen on the Disney Channel series Even Stevens, is probably the most impressive member of the cast. He has a lot of emotion that is used well in this film. LaBeouf should be able to become a big star if he continues to act in films like this. Jon Voight is fabulous in this film as the somewhat scary Mr. Sir. He is best known for his dramatic acting in films like Enemy of the State and Pearl Harbor but he has a great comic timing in this feature that most have not seen before. Sigorny Weaver is good as the Warden but you don't see her character until relatively half-way through the film and even when you do see her, you don't get as much character development as the other members of the cast. Henry Winkler, who is best known for Happy Days, makes a funny, if not brief, appearance as Stanley's father in the film. Winkler should receive a lead in a comedy soon but until then let's hope he appears in roles in this.

Overall, Holes is probably the most teenage orientated film from Walt Disney Pictures in quite some time and will be the last one until Pirates of the Caribbean: The Curse of the Black Pearl opens in July. One must note that this is not your typical Mickey Mouse films with several foul language words being used within the course of the film. But this doesn't mean that is bad. There are very few things to say badly about the film Holes, but there are some. For one, the time length is a perfect at two hours but does seem to be a little too much for a film intended for younger children. Also, the story, though very well done, does seem a big dragged out in parts which can slow down the film a bit. Lastly, not as many characters get to act outside of the usual slapstick gags which can disappoint some. Outside of those small squabbles, Holes is probably the best film out in theaters since Phone Booth. The film is very well done that should appeal to everyone in the family. Note that film does contain a lot of references to death, acts of killing, and bad language that may not be suitable to small children. Just a word of warning to those that are expecting the normal Disney treatment.

My Rating: **** out of 5 (Grade: B+)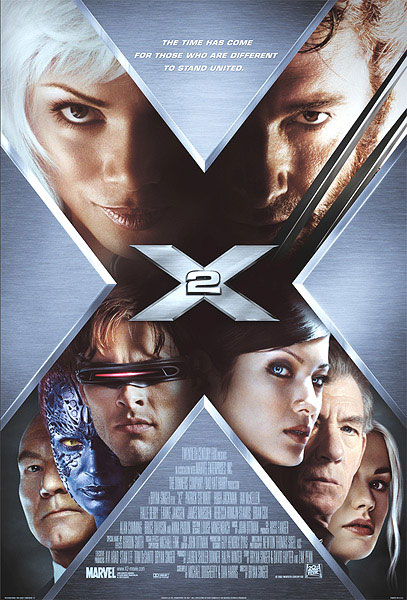 20th Century Fox's X2
Released May 2nd, 2003
Starring: Patrick Stewart, Ian McKellen, Famke Janssen, James Marsden, Hugh Jackman, Halle Berry, Anne Paquin, Rebecca Romijn-Stamos, Bruce Davidson, Alan Cumming, Kelly Hu, Aaron Stanford, Katie Stuart, Shawn Ashmore, Brian Cox, Peter Wingfield, Alfred E. Humphries, Jill Teed, James Kirk, Ty Olsson, Kea Wong, Shauna Kain

Director: Bryan Singer
Premise: Mutants continue their struggle against a society that fears and distrusts them. Their cause becomes even more desperate following an incredible attack by an as yet undetermined assailant possessing extraordinary abilities. The shocking attack renews the political and public outcry for a Mutant Registration Act and an anti-mutant movement now led by William Stryker, a wealthy former Army commander who is rumored to have experimented on mutants. Stryker's mutant "work" is somehow tied to Logan's mysterious and forgotten past. As Wolverine searches for clues to his origin, Stryker puts into motion his anti-mutant program - launching an attack on Xavier's mansion. Magneto, newly escaped from his plastic prison, proposes a partnership with the X-Men to combat their common and formidable enemy: Stryker. With the fates of Xavier, mankind - and mutantkind - in their hands, the X-Men face their most dangerous mission ever.
The beginning of the summer season always seems to open with a bang. In years past, the first major blockbuster film of the summer didn't open until Memorial Day weekend but times have changed. The first weekend of May has become the starting point now and Spider-Man solidified that with its $114.5 million opening weekend last year. This year presents another comic-book adaptation, X2: X-Men United, a sequel to the 2000 hit, X-Men. Comic book adaptations seem to be the huge rage now with past films like Spider-Man, X-Men, and Daredevil being such box office successes. But X2 is presented with a slight problem. X-Men did have a big opening weekend but started to really slow down after that with some movie-goers being disappointed. Obviously the marketing of the film will prevent X2 from being a failure at the box office but will the sequel disappoint fans like its predecessor or will an evolution occur in the movie-going experience?

The story picks up where the last film left off with Magneto in jail and Professor Xavier and his X-Men fighting to protect both human and mutant kind. This time around, though, the war between mutants and the rest of humanity seems growing closer as moves made by certain people have created conflicts that will become bigger as time goes on. Due to recent events including the attempted assassination of the president by a mutant, William Stryker has sent a crew to invade Professor Xavier's School for the Gifted. But he isn't after the children. He has bigger plans involving all mutants on the planet. Now the X-Men must join up with Magneto and his group to fight for a more peaceful world. The story for X2: X-Men United was very well done but there are many elements that the normal movie-goer would not understand but a big fan of the comic-book series would. But those elements are to be expected with most comic-book adaptations like X2. This was also a problem with Daredevil, which was released in February.

The cast was fabulous once again and much of the returning cast seems to be more comfortable with their rules then they were in the first film. Hugh Jackman is Wolverine. Plain and simple. Jackman proves that the role was meant for him and does it magnificently. Patrick Stewart is great once again as Professor Charles Xavier, the head of the School for the Gifted. He isn't included in as many scenes as last time but still plays an essential part in the film. Ian McKellen sends chills up backs as Magneto. He plays him so well that you would actually believe he is that character much like he did with the role of Gandalf in the Lord of the Rings series. Out of the new members of the cast, Alan Cummings is the shining light playing the role of Nightcrawler. Cummings presents much emotion to a character that you would expect to placed in a film for special effect purposes rather then character development.

Overall, X2: X-Men United is a huge leap from the somewhat disappointing original. Close to perfection, there are some things to pick at. There were some members of the cast that seemed to be pointlessly placed in the film. Among those would be Kelly Hu as Lady Deathstrike. Her character was almost pointless outside of the fight at the end with Logan. The role of Cyclops seemed to be pointless as well in this film as he was not scene almost at all except at the very beginning and at the end. There were a lot of action sequences but maybe a little too much. Eliminating one or two of the sequences would have been fine. They weren't bad, there just seemed to be too much thrown at the audience in two hours. And the ending, though magnificently done, will confuse many movie-goers not familiar with the comic-book or cartoon series. But maybe a better explanation will be shown in X-Men 3. The summer begins with a bang and if others films turn out like X2, we are in for one Hell of a summer.

My Rating: ****1/2 out of 5 (Grade: A)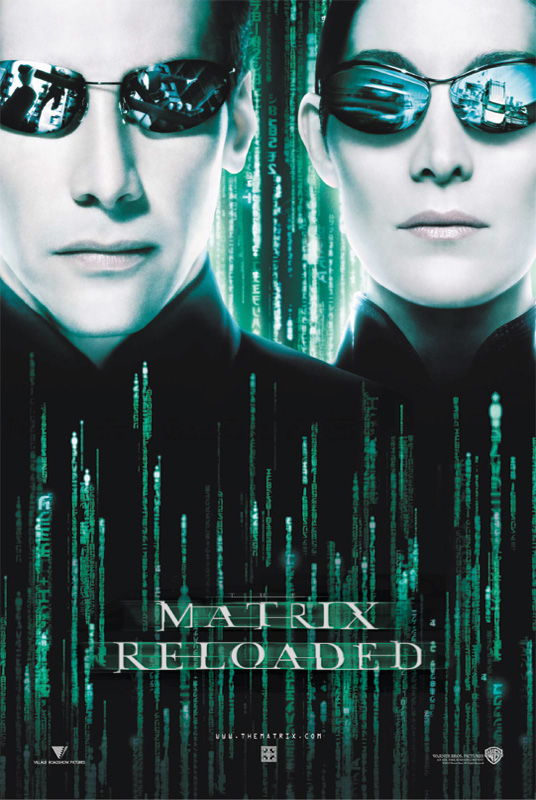 WB's The Matrix Reloaded
Released May 15th, 2003
Starring: Keanu Reeves, Laurence Fishburne, Carrie-Anne Moss, Hugo Weaving, Monica Bellucci, Daniel Bernhardt, Jada Pinkett Smith, Matt McColm, Harold Perrineau Jr., Harry Lennix, Stuart Wells

Director: Andy Wachowski, Larry Wachowski
Premise: In the second chapter of the Matrix trilogy, freedom fighters Neo (Reeves), Trinity (Moss) and Morpheus (Fishburne) continue to lead the revolt against the Machine Army, unleashing their arsenal of extraordinary skills and weaponry against the systematic forces of repression and exploitation. In their quest to save the human race from extinction, they gain greater insight into the construct of The Matrix and Neos pivotal role in the fate of mankind.
The world we live in is not real. We are all part of a large computer program. It is not the year we think it is. Most humans believe it is the year 2003 but rather it is the year 2099 or something close to that. Machines have taken control of the world and most humans are tapped into a thing called The Matrix. Pretty weird, huh? Well, the strange premise of The Matrix caught on in 1999 and now the first sequel has been declared the movie event of 2003. Though the sequel, like its predecessor, is rated R, the highly anticipated film is still expected to break box office records faster then any other movie. It is even expected to challenge Titanic for the highest grossing film title. A huge amount of hype has been placed on the film. Fanatics have been surfing the web and chatting how excited they are about this film. You couldn't go into a movie without seeing at least a teaser trailer for the film. Now that the film has finally arrived in movie theaters across the country and soon the world, will The Matrix Reloaded live up to the hype?

The story for The Matrix Reloaded does not exactly take up where the original left off. To fully understand what is going on, one must rent The Animatrix on DVD and play the Enter the Matrix game but let us say that we are not all huge fanatics like the rest of the world. Here is the simple and basic story line for The Matrix Reloaded: It is the year 2099 and man is fighting an ongoing battle with machines. Machines gained control of the world and put humans into slavery. They built a computer program called The Matrix which all are connected to except for a small few. Those small few would include Morpheus, Trinity, Neo and the people of Zion, the last human stronghold. They are continuing their fight against The Matrix and searching for the answer to this question: Why are we here? Why are doing what we do? Why us? That is as simple as you can get about this premise without confusing somebody or giving away most of the movie. It is highly recommended that you not see this film unless you have seen the original The Matrix. The story can be confusing even to those that have seen the original but it is still excellently done. It is amazing how intricate and complex the plot is that there is not a single action within the course of the film that does not have a significant action later on either in this film or in the next.

The cast of The Matrix Reloaded is wonderful as it is expanded significantly from the original film. Keanu Reeves is perfectly cast as the role of Neo or The One. There was some question with the original if he could handle such an important role as this but Reeves totally proves his acting worth not only in the original but also in this film. Carrie-Ann Moss is great as Trinity. Her role is placed more center stage in this film allowing more screen time and more importance then some thought in the original film. Laurence Fishburne is, accourse, delightful as Morpheus. Fishburne is able to show more emotion with character this time around though not too much away from the normal emotions Morpheus had in the first movie. Jada Pinkett Smith is okay but one would think that her role will be bigger in The Matrix Revolutions. Monica Belluci's role is nothing more then eye candy for the young males. Her acting range is never really seen which is quite disappointing with such good word coming from her foreign films.

The Matrix Reloaded is definitely the movie event of the summer but not quite as perfect as all the hype said it would be. As great as it is there are some things to pick at. What is with the constant huge kissing scenes between Neo and Trinity? Almost every time they are alone they are eating each other's face. I think after the first kissing scene we would have gotten the idea that they are in love with each other. Another thing that was a problem was the orgy scene in the city of Zion. Was that truly necessary? It went from being a totally sci-fi film to this porno flick. What was the deal with all the sexual references within the course of the film in general? Are they that desperate to attract and appeal to young teenage boys that almost every other scene has to include a sexual action or comment? You would think that this kind of film would be above all of that but guess not. Other then those comment, The Matrix Reloaded is definitely the film to see this summer. One should see this film for the special effects alone. Absolutely amazing though in parts they seemed a little much especially with the fight between Neo and the multiple Agent Smiths. The Matrix Reloaded is not perfect by any standards but maybe that is what the film makers intended it to be. It is only half a film. Remember to stick around after the credits to check out a short preview of The Matrix Revolutions opening in theaters on November 5th, 2003.

My Rating: ****1/2 out of 5 (Grade: A)